I don't have as many books to choose from as some people do, but I did read 30 this year and I definitely have my favourites. This post isn't just going to be books published in 2014, it is going to be a list of the top ten books I have read this year despite when it was originally published. Alright, no more rambling…let's do this:
10. Never Have I Ever: My Life (So Far) Without a Date by Katie Heaney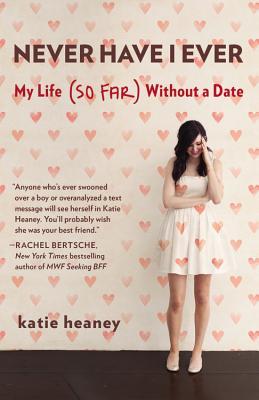 As soon as I saw this book in the bookstore I knew I needed it in my life. I thought it was really funny and resonated with me as someone who is in the same shoes (more or less) as the author. While the book does deal with boys and dating life – or lack thereof – it really brings home the value of having great friends who you can trust and love. It is a great book to pass around with your girlfriends.
Favourite quote:
"In fact, I think that's probably what the Bermuda Triangle is up to. It doesn't mean to do any harm, and it's actually pretty nice once you get to know it. It's just that Bermuda doesn't know how to handle itself when somebody sails into its territory, because that hardly ever happens."
9)  American Gods by Neil Gaiman 
When I started this book I didn't think it was going to make it on my list of favourite books of the year, but here we are. My love for this book was a slow build from beginning to end; I didn't realize how much I was enjoying it until it was suddenly over. The book was just so good and different from anything I have read and I feel like, if you haven't already done so, you should read it too. Be sure to check out my review of American Gods!
Favourite Quotes:
"All your questions can be answered, if that is what you want. But once you learn your answers, you can never unlearn them."
"What I say is, a town isn't a town without a bookstore. It may call itself a town, but unless it's got a bookstore it knows it's not fooling a soul."

8) The Lightning Thief by Rick Riordan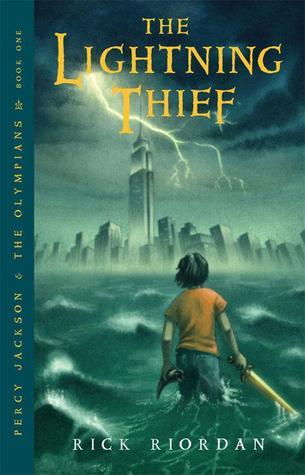 It has certainly been a long time coming with this book. I'm ashamed to say how long it even took my to realize this series of books existed – I'm pretty sure when it was starting off I was in my Harry Potter bubble that no one could even think of entering. Well, now that I've started the series I'm definitely going to enjoy slowly making my way through it. I'm excited to see what other adventures the sassy Percy and his gang get up to in future books!
Favourite quotes:
"It's funny how humans can wrap their mind around things and fit them into their version of reality."
"Deadlines just aren't real to me until I'm staring one in the face."
"Even strength must bow to wisdom sometimes."
"Humans see what they want to see."

7) Attachments by Rainbow Rowell 
This is the first, but certainly not the last Rainbow Rowell book you will be seeing on this list. Attachments was the first of Rowell's adult books that I read and I really, really enjoyed it. It was adorable, funny, and had – as per usual – fantastic characters that you can't help but love. Seriously though, this guy is clearly one of the earliest cyber-creepers but you can't help but love him. It was a super fast read and I just can't wait to finally pick up Landline this year so I can say I've read all Rowell's books to date.
Favourite quotes:
"Every woman wants a man who'll fall in love with her soul as well as her body."
"I believe that worrying about a bad thing prepares you for it when it comes. If you worry, the bad thing doesn't hit you as hard. You can roll with the punch if you see it coming."
6) Eleanor and Park by Rainbow Rowell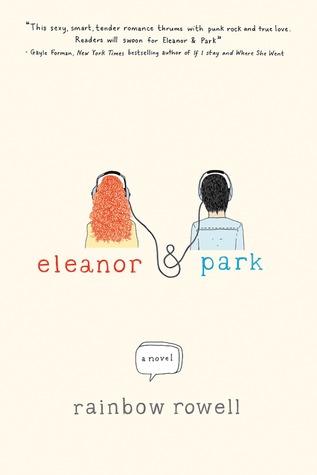 I told you Attachments wouldn't be the last Rowell novel you will see (spoiler: this isn't either). Rowell definitely became an instant buy author for me this year. This untraditional love story was so good all the way through. The characters and their stories were so great that you can't help but feel for and with them. One of Rowell's strengths is her characters and that is why I love her writing so much. I wrote a review of Eleanor & Park so feel free to check that out!
Favourite quotes:
"I just want to break that song into pieces and love them all to death."
"You saved me life, she tried to tell him. Not forever, not for good. Probably just temporarily. But you saved my life, and now I'm yours. The me that's me right now is yours. Always."
5) Is Everyone Hanging Out Without Me? (And Other Concerns) by Mindy Kaling
2014 was also the year I became obsessed with Mindy Kaling. Not in a weird way, but in the way where I'm pretty certain if we ever met we would be instant best friends (with Jennifer Lawrence too). After binge watching The Mindy Project in less than a week and watching as many interviews with Kaling on Youtube I could find the next obvious step would be to read her memoir…and I wasn't disappointed. I found my self laughing out loud while reading this book – as expected. This series of essays about Kaling's life has me impatiently waiting for her next book which I believe will be coming out later this year!
Favourite Quotes: 
"There is no sunrise so beautiful that it is worth waking me up to see it."
"There Has Ceased to Be a Difference Between My Awake Clothes and My Asleep Clothes"
4) Fangirl by Rainbow Rowell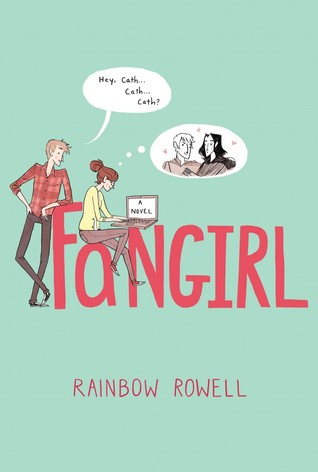 I told you there was more Rowell to come; Fangirl was definitely my favourite of her books I read this year. I just found the main character to be so relatable and, I mean, who wouldn't love to find their own Levi. It's a great read for all fangirl's alike and even though I didn't think the fanfiction aspect was super strong, the actual plot and characters brought Fangirl to my number four spot. I wrote a review on Fangirl which you can take a look at!
Favourite quotes:
"There Has Ceased to Be a Difference Between My Awake Clothes and My Asleep Clothes"
"You're never going to find a guy who's exactly like you—first of all, because that guy never leaves his dorm room."
3) The Book Thief by Markus Zusak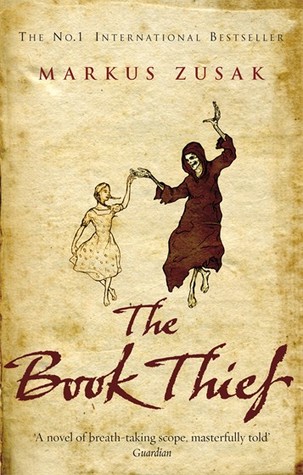 This. Book. I think my top three books of the year are pretty interchangeable so this book could easily fill the second or first spot. I honestly didn't think this books was going to make it so high on my list of favourites when I first started reading it. I found I was having a really difficult time getting into the story…but then, all of a sudden, I was hooked and the rest is history. I cried for a solid 20 minutes after finishing this book. It was so beautiful and utterly heartbreaking. If anyone ever says anything bad to me about young adult fiction ever again I'm going to throw this book (and the next book on the list) at their face and just watch their minds change as they read this story. SO GOOD.
Favourite Quotes:
"I have hated words and I have loved them, and I hope I have made them right."
2) More Than This by Patrick Ness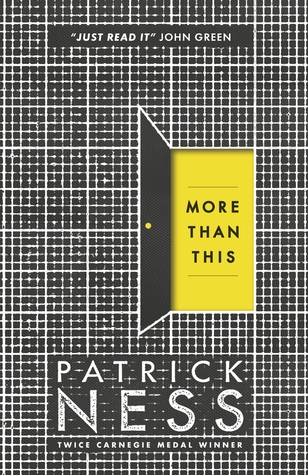 Patrick Ness was also added to my list of instant buy authors – and that was only after one book! I mean, I already own two more of his books, I just haven't gotten around to reading them yet. I have a feeling they will probably be on my 2015 favourite list though if this book is any indication. I flew through More Than This and I really, really loved it. I went into the story not knowing a single thing about the plot and I can honestly say I was not expecting this book to be the way it was, which made it so much better. I love being taken aback by a story. I think that everyone should read this book because a) I say so and b) it's awesome. You can't argue against that. Check out my review of More Than This here.
Favourite Quote:
"A book… it's a world all on its own too. A world made of words, where you live for a while."
"Know yourself and go in swinging."
1) The Throne of Glass series by Sarah J. Maas
I couldn't just pick one. It wasn't happening. I am SO happy I read this series this year (in 10 glorious days if we are going to be exact). It is everything you could possibly want in a (older) YA fantasy series: a super badass lead female character who is still super feminine, a plethora of good looking men to read about and argue over, great action sequences, and AMAZING world building. I simply can not wait any longer for the next book in the series; I need it now. If you are interested in seeing my review of the first book – Throne of Glass – click here and I promise I will try and get the reviews for the rest of the series up ASAP! I'm not going to include a favourite quotes section here because it will take FOREVER to pick.
And those are the top ten books I read in 2014! Ok, so I cheated a little by including a series but we can just overlook that little detail.
Let me know what your favourite books of 2014 were or send me a link to your list because I (clearly) need to add to my TBR list! Here's to another year of great books!