Everyone seems to have a themed TBR list for the month of October and I'm here to say that I will…not be doing that. Sorry guys, horror novels are not my thing. I wouldn't sleep ever again, probably. I've been on a reading spree so far in October; I'm on my 4th book already (though only three will be listed since I put Throne of Glass on my September Wrap Up list even though I finished it in October (shh). I really hope I keep this reading binge up because now I'm only two books behind on my reading challenge and I want to get ahead!
Enough blabbing, let's get to this list: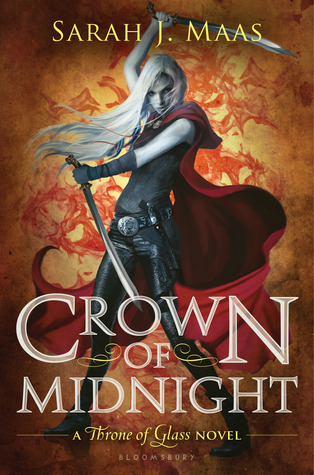 Crown of Midnight by Sarah J. Maas
Publisher: Bloomsbury 
Published: August 27th 2013
Genre: YA Fantasy
Pages: 420
Blurb: "A line that should never be crossed is about to be breached.
It puts this entire castle in jeopardy—and the life of your friend."
From the throne of glass rules a king with a fist of iron and a soul as black as pitch. Assassin Celaena Sardothien won a brutal contest to become his Champion. Yet Celaena is far from loyal to the crown. She hides her secret vigilantly; she knows that the man she serves is bent on evil.
Keeping up the deadly charade becomes increasingly difficult when Celaena realizes she is not the only one seeking justice. As she tries to untangle the mysteries buried deep within the glass castle, her closest relationships suffer. It seems no one is above questioning her allegiances—not the Crown Prince Dorian; not Chaol, the Captain of the Guard; not even her best friend, Nehemia, a foreign princess with a rebel heart.
Then one terrible night, the secrets they have all been keeping lead to an unspeakable tragedy. As Celaena's world shatters, she will be forced to give up the very thing most precious to her and decide once and for all where her true loyalties lie…and whom she is ultimately willing to fight for.
Goodreads Rating: 4.51
Status: Completed AND OMG I AM SO OBSESSED. This series honestly just gets better and better. I hate how much I love this because usually when I become this obsessed with a book a movie is around the corner, but that's not happening here and I'm sad. I just. I loved this book, and I will be doing a review very soon.
Fortunately, the Milk… by Neil Gaiman
Publisher: Bloomsbury Children's
Published: September 17, 2013
Genre: Middle Grade/Children's Fantasy
Pages: 160
Blurb: You know what it's like when your mum goes away on a business trip and Dad's in charge. She leaves a really, really long list of what he's got to do. And the most important thing is DON'T FORGET TO GET THE MILK. Unfortunately, Dad forgets. So the next morning, before breakfast, he has to go to the corner shop, and this is the story of why it takes him a very, very long time to get back.
Featuring: Professor Steg (a time-travelling dinosaur), some green globby things, the Queen of the Pirates, the famed jewel that is the Eye of Splod, some wumpires, and a perfectly normal but very important carton of milk.
Goodreads Rating: 4.04
Status: Completed. I wanted a really quick, fun read after I finished Crown of Midnight and was waiting for Heir of Fire to arrive in the mail so, naturally, this was the perfect choice. It was funny and super sweet…plus it is Neil Gaiman who is an author I've been dying to read more of. So cute!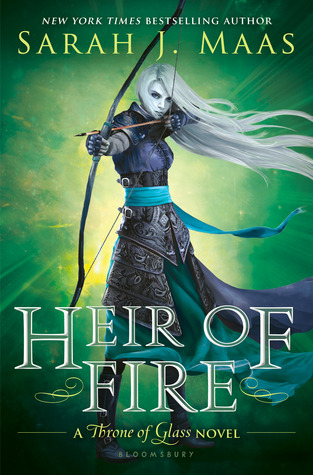 Heir of Fire by Sarah J. Maas
Publisher: Bloomsbury
Published: September 2, 2014
Genre: YA Fantasy
Pages: 565
Blurb: Lost and broken, Celaena Sardothien's only thought is to avenge the savage death of her dearest friend: as the King of Adarlan's Assassin, she is bound to serve this tyrant, but he will pay for what he did. Any hope Celaena has of destroying the king lies in answers to be found in Wendlyn. Sacrificing his future, Chaol, the Captain of the King's Guard, has sent Celaena there to protect her, but her darkest demons lay in that same place. If she can overcome them, she will be Adarlan's biggest threat – and his own toughest enemy.
While Celaena learns of her true destiny, and the eyes of Erilea are on Wendlyn, a brutal and beastly force is preparing to take to the skies. Will Celaena find the strength not only to win her own battles, but to fight a war that could pit her loyalties to her own people against those she has grown to love?
Goodreads Rating: 4.63
Status: 46% complete and I'm loving it. Celaena is such a badass I can't even deal with it and, despite his stubbornness, I still love Chaol.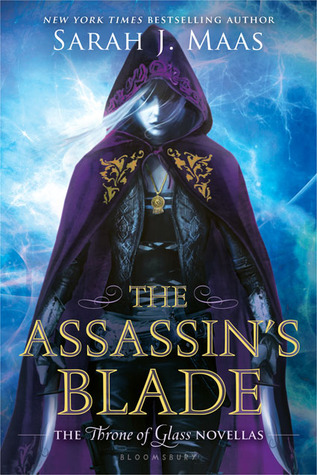 The Assassin's Blade by Sarah J. Maas
Publisher: Bloomsbury
Published: March 4, 2014
Genre: YA Fantasy
Pages: 435
Blurb: Celaena Sardothien is her kingdom's most feared assassin. Though she works for the powerful and ruthless Assassin's Guild, Celaena yields to no one and trusts only her fellow killer for hire, Sam.
When Celaena's scheming master, Arobynn Hamel, dispatches her on missions that take her from remote islands to hostile deserts, she finds herself acting independently of his wishes and questioning her own allegiance. Along the way, she makes friends and enemies alike, and discovers that she feels far more for Sam than just friendship. But by defying Arobynn's orders, Celaena risks unimaginable punishment, and with Sam by her side, he is in danger, too. They will have to risk it all if they hope to escape Arobynn's clutches and if they fail, they'll lose not just a chance at freedom, but their lives.
A prequel to Throne of Glass, this collection of five novellas offers listeners a deeper look into the history of this cunning assassin and her enthralling and deadly world.
Included in this volume:
The Assassin and the Pirate Lord
The Assassin and the Healer
The Assassin and the Desert
The Assassin and the Underworld
The Assassin and the Empire
Goodreads Rating: 4.55
Status: N/A. I haven't started this yet, but you better believe I will be reading this as soon as I finish Heir of Fire.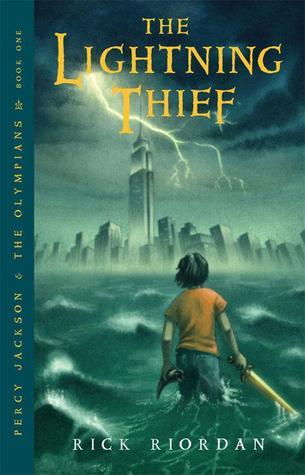 The Lightning Thief (Percy Jackson and the Olympians) by Rick Riordan
Publisher: Disney Hyperion Books
Published: March 21st 2005
Genre: Middle Grade Fantasy
Pages: 377 c.
Blurb: Percy Jackson is about to be kicked out of boarding school… again. And that's the least of his troubles. Lately, mythological monsters and the gods of Mount Olympus seem to be walking straight out of the pages of Percy's Greek mythology textbook and into his life. And worse, he's angered a few of them. Zeus' master lightning bolt has been stolen, and Percy is the prime suspect.
Now Percy and his friends have just ten days to find and return Zeus' stolen property and bring peace to a warring Mount Olympus. But to succeed on his quest, Percy will have to do more than catch the true thief: he must come to terms with the father who abandoned him; solve the riddle of the Oracle, which warns him of betrayal by a friend; and unravel a treachery more powerful than the gods themselves.
Goodreads Rating: 4.18 out of 5 stars
Status: Yes this is still here, but I've started it and I'm about 20% in. It's adorable so far, but I've put it on hold for Heir of Fire for so many reasons.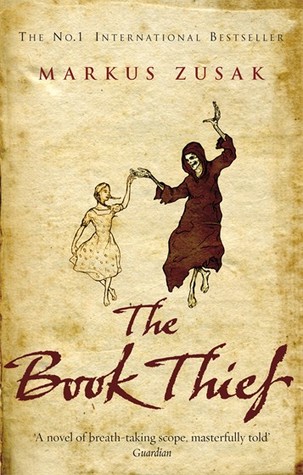 The Book Thief by Markus Zusak
Publisher: Black Swan
Published: Reprinted September 8, 2007
Genre: YA Historical Fiction
Pages: 560
Blurb: HERE IS A SMALL FACT – YOU ARE GOING TO DIE.
1939. Nazi Germany. The country is holding its breath. Death has never been busier.
Liesel, a nine-year-old girl, is living with a foster family on Himmel Street. Her parents have been taken away to a concentration camp. Liesel steals books. This is her story and the story of the inhabitants of her street when the bombs begin to fall.
SOME IMPORTANT INFORMATION – THIS NOVEL IS NARRATED BY DEATH.
It's a small story, about: a girl, an accordionist, some fanatical Germans, a Jewish fist fighter, and quite a lot of thievery.
ANOTHER THING YOU SHOULD KNOW – DEATH WILL VISIT THE BOOK THIEF THREE TIMES.
Goodreads Rating: 4.36
Status: N/A. I guess this will be my "spooky-ish" book of the month. I'm actually SO excited to get to this book, it has been on my to-read list for way to long.
Attachments by Rainbow Rowell
Publisher: Plume
Published: March 27, 2012 (paperback)
Genre: Adult Contemporary
Pages: 323
Blurb: Beth Fremont and Jennifer Scribner-Snyder know that somebody is monitoring their work e-mail. (Everybody in the newsroom knows. It's company policy.) But they can't quite bring themselves to take it seriously. They go on sending each other endless and endlessly hilarious e-mails, discussing every aspect of their personal lives.
Meanwhile, Lincoln O'Neill can't believe this is his job now- reading other people's e-mail. When he applied to be "internet security officer," he pictured himself building firewalls and crushing hackers- not writing up a report every time a sports reporter forwards a dirty joke.
When Lincoln comes across Beth's and Jennifer's messages, he knows he should turn them in. But he can't help being entertained-and captivated-by their stories.
By the time Lincoln realizes he's falling for Beth, it's way too late to introduce himself.
What would he say . . . ?
Goodreads Rating: 3.97
Status: N/A. This month is full of some pretty intense books so I wanted to add something nice and fluffy to end my October TBR.
And that's that. What books do you plan on reading this month?