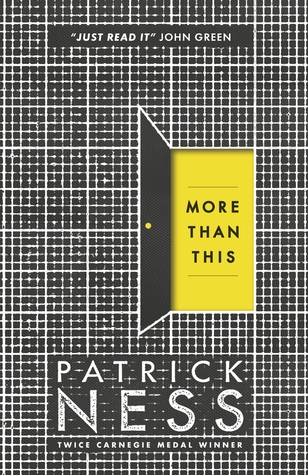 Book Details:
Author: Patrick Ness
Genre: YA Sci-Fi
Publisher: Walker Books Ltd
Pages: 480
Released: May 1st 2014
Goodreads Rating: 4.05
Goodreads summary:
A boy drowns, desperate and alone in his final moments. He dies.
Then he wakes, naked and bruised and thirsty, but alive.
How can this be? And what is this strange deserted place?
As he struggles to understand what is happening, the boy dares to hope. Might this not be the end? Might there be more to this life, or perhaps this afterlife?
My Thoughts:
This book. I honestly don't know what more I can say about this book other than it is definitely one of the best books I have read this year so far.
I'm not going to give anything away in this review because I think the best way to go into More Than This is without a lot of knowledge about what to expect. I only went into the book having read the blurb on the back and with recommendations from friends – whose judgements I trust – saying the book was fantastic.
I didn't put this book down. I couldn't. I was so entranced by this story and the characters' lives that I had to find out what was going to happen; I needed to know the truth.
You can definitely say I was obsessed with this story and when it was finished I can honestly say that I wanted more! I wanted to know what happened next, I wanted to know more than this (badumtis).
It's beautiful, thought provoking, funny at times, scary in others; it is the whole package and then some. Like John Green said, "Just read it."
As I previously mentioned, I don't want to give anything away, just know that I am officially on the Patrick Ness fan-wagon and I could not be more excited to read more of his work.
EVERYONE READ THIS, OKAY?
My Rating:
I gave this book 5 out of 5 stars. It has definitely been added to my go-to recommendations pile because I think everyone would enjoy this whether or not you like sci-fi or novels in the YA category.
Favourite Quotes:
"A book… it's a world all on its own too. A world made of words, where you live for a while."
"Know yourself and go in swinging."
"You said we all want there to be more than this! Well, there's always more than this. There's always something you don't know."
"Real life is only ever just real life. Messy. What it means depends on how you look at it. The only thing you've got to do is find a way to live there."
"We have to lie to ourselves to live. Otherwise, we'd go crazy."