Alert the press: I finally have time to read! I'm hoping that my reading game is strong in September and I manage to catch up on my year challenge on Goodreads – I'm six book behind *gulp*. This month is just going to find me applying for jobs (I need money to buy more books after all), writing, reading, and maybe contemplating setting up a book vlog. Maybe. (Seriously though, let me know if that is something you want to see). I'm going to be making this list a little hefty because I want to challenge myself this month to read as much as I possibly can! So without further ado, here is my September TBR: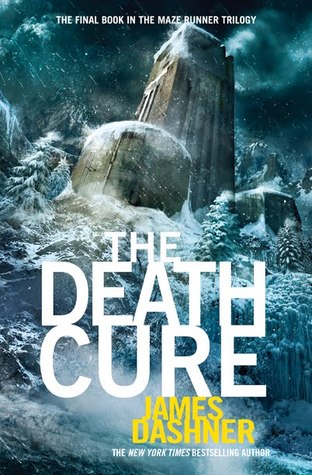 The Death Cure by James Dashner
Publisher:  Delacorte Books for Young Readers
Released: October 11th 2011
Genre: YA Sci-fi Dystopia
Pages: 325 c. 
Goodreads Description: Thomas knows that Wicked can't be trusted, but they say the time for lies is over, that they've collected all they can from the Trials and now must rely on the Gladers, with full memories restored, to help them with their ultimate mission. It's up to the Gladers to complete the blueprint for the cure to the Flare with a final voluntary test.
What Wicked doesn't know is that something's happened that no Trial or Variable could have foreseen. Thomas has remembered far more than they think. And he knows that he can't believe a word of what Wicked says.
The time for lies is over. But the truth is more dangerous than Thomas could ever imagine.
Will anyone survive the Death Cure?
Goodreads Rating: 3.81 out of 5 stars
Status: 3%. I just finished The Scorch Trials this morning so I can't wait to dive into this story tonight and find out what happens and how this trilogy will end!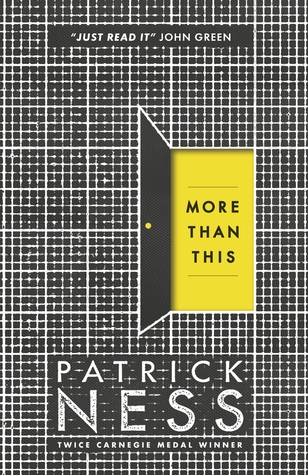 More Than This by Patrick Ness
Publisher: Walker Books Ltd.
Released: September 10, 2013
Genre: YA Sci-Fi
Pages: 480 c.
Goodreads Description: Then he wakes, naked and bruised and thirsty, but alive.
How can this be? And what is this strange deserted place?
As he struggles to understand what is happening, the boy dares to hope. Might this not be the end? Might there be more to this life, or perhaps this afterlife?
Goodreads Rating: 4.05 out of 5
Status: N/A, but I'm SO EXCITED TO READ THIS BOOK I CAN'T EVEN EXPLAIN IT IN WORDS NOR LOWER CASE.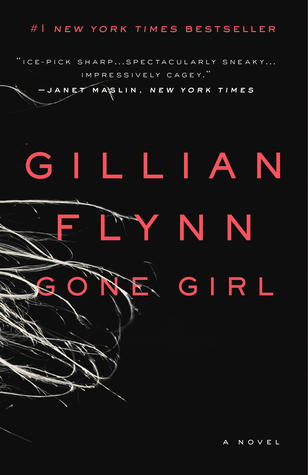 Gone Girl by Gillian Flynn
Publisher: Broadway Books
Released: June 5, 2012
Genre: Adult Thriller/Mystery
Pages: 422 c.
Goodreads Description: On a warm summer morning in North Carthage, Missouri, it is Nick and Amy Dunne's fifth wedding anniversary. Presents are being wrapped and reservations are being made when Nick's clever and beautiful wife disappears. Husband-of-the-Year Nick isn't doing himself any favors with cringe-worthy daydreams about the slope and shape of his wife's head, but passages from Amy's diary reveal the alpha-girl perfectionist could have put anyone dangerously on edge. Under mounting pressure from the police and the media—as well as Amy's fiercely doting parents—the town golden boy parades an endless series of lies, deceits, and inappropriate behavior. Nick is oddly evasive, and he's definitely bitter—but is he really a killer? 
Goodreads Rating: 3.93 out of 5 stars
Status: N/A. Really excited to finally pick this book up – especially with the movie adaptation release in sight. I have a feeling this is going to be a pretty quick read.
Throne of Glass by Sarah J. Maas
Publisher: Bloomsbury 
Released: August 2nd 2012
Genre: YA Fantasy
Pages: 404 c.
Goodreads Description: In a land without magic, where the king rules with an iron hand, an assassin is summoned to the castle. She comes not to kill the king, but to win her freedom. If she defeats twenty-three killers, thieves, and warriors in a competition, she is released from prison to serve as the king's champion. Her name is Celaena Sardothien.
The Crown Prince will provoke her. The Captain of the Guard will protect her. But something evil dwells in the castle of glass–and it's there to kill. When her competitors start dying one by one, Celaena's fight for freedom becomes a fight for survival, and a desperate quest to root out the evil before it destroys her world.
Goodreads Rating: 4.17 out of 5 stars
Status: N/A. This book looks so badass I need to have read it yesterday.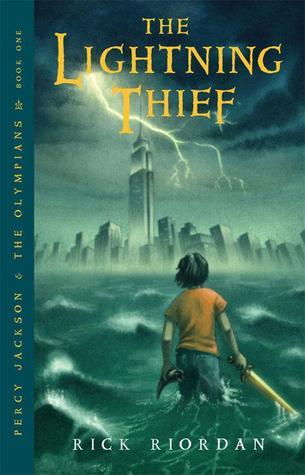 The Lightning Thief (Percy Jackson and the Olympians) by Rick Riordan
Publisher: Disney Hyperion Books
Released: March 21st 2005
Genre: Middle Grade Fantasy
Pages: 377 c.
Goodreads Description: Percy Jackson is about to be kicked out of boarding school… again. And that's the least of his troubles. Lately, mythological monsters and the gods of Mount Olympus seem to be walking straight out of the pages of Percy's Greek mythology textbook and into his life. And worse, he's angered a few of them. Zeus' master lightning bolt has been stolen, and Percy is the prime suspect.
Now Percy and his friends have just ten days to find and return Zeus' stolen property and bring peace to a warring Mount Olympus. But to succeed on his quest, Percy will have to do more than catch the true thief: he must come to terms with the father who abandoned him; solve the riddle of the Oracle, which warns him of betrayal by a friend; and unravel a treachery more powerful than the gods themselves.
Goodreads Rating: 4.18 out of 5 stars
Status: N/A. Really late to the game on this one, but wanted to give it a shot since I was WAY too preoccupied with Harry Potter when this series started.
So at this point in time these are the books I'm hoping to read this month. It might change depending on what I'm in the mood for and there may be more or less books read in the month – who knows. What books do you plan on reading this month?