August is a CRAZY month for me. My dissertation is due on August 20th (crying) and I fly back home to Toronto on the 24th, so you can probably see why I haven't been able to post as frequently as I would like. My hectic schedule at the moment also means that I have zero plans to read a lot this month. I have two books that I definitely want to finish though so let's get started.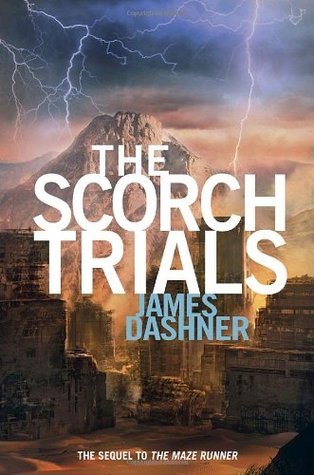 The Scorch Trials by James Dashner
Publisher: Delacorte Press
Released: October 12th 2010
Genre: YA Sci-fi Dystopia
Pages: 324 (ebook)
Goodreads Description: Solving the Maze was supposed to be the end.
Thomas was sure that escape from the Maze would mean freedom for him and the Gladers. But WICKED isn't done yet. Phase Two has just begun. The Scorch.
There are no rules. There is no help. You either make it or you die.
The Gladers have two weeks to cross through the Scorch—the most burned-out section of the world. And WICKED has made sure to adjust the variables and stack the odds against them.
Friendships will be tested. Loyalties will be broken. All bets are off.
There are others now. Their survival depends on the Gladers' destruction—and they're determined to survive.
Goodreads Rating: 3.99 out of 5 stars
Status: 16% through and I'm enjoying it so far…just wish I had more time to read it!
Camp Utopia and the Forgiveness Diet by Jenny Ruden
Publisher: Koehler Books
Released: July 1st 2014
Genre: YA Contemporary
Pages: 300
Goodreads Description: Sixteen-year-old Baltimore teen Bethany Stern knows the only way out of spending her summer at Camp Utopia, a fat camp in Northern California, is weight-loss. Desperate, she tries The Forgiveness Diet, the latest fad whose infomercial promises that all she has to do is forgive her deadbeat dad, her scandalous sister, and the teenage magician next door and (unrequited) love of her life. But when the diet fails and her camp nemesis delivers the ultimate blow, Bee bids sayonara to Camp-not-Utopian-at-all to begin what she believes will be her "real" summer adventure, only to learn that running away isn't as easy—or as healing—as it seems.
Her wry and honest voice bring humor and poignancy for anyone, fat or thin, tired of hearing "you'd be so pretty if…[insert unwelcome judgment about your appearance from loved one or perfect stranger]."
Goodreads rating: 4.31
Status: No progress has been made yet, BUT I can say that I will be part of the blog tour for this book (exciting!) so look for a review of this book on August 27th!
What are you reading this month? Let me know in the comments below or on Twitter!