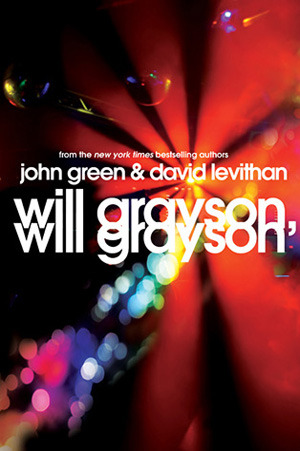 Book Details:
Author: David Levithan & John Green
Genre: YA Contemporary
Publisher: Dutton Children's
Pages: 304 c.
Released: April 6th 2009
Goodreads Rating: 3.96
Goodreads summary:
One cold night, in a most unlikely corner of Chicago, two teens—both named Will Grayson—are about to cross paths. As their worlds collide and intertwine, the Will Graysons find their lives going in new and unexpected directions, building toward romantic turns-of-heart and the epic production of history's most fabulous high school musical.
My Thoughts:
To be perfectly honest with you all when I first started reading this book I didn't think I was going to like it. I was probably about 50-100 pages in and I wasn't really feeling it, and then something happened and before I knew it the book was over. It's like the characters and the story finally won me over and by the time I got to the end I didn't was the story to finish.
I didn't like Will Grayson at first (the first one we read). He was so set in his mind about things and very stubborn about doing anything that didn't fall within his set of personal rules. Later on when he finally starts to open himself to a more Tiny type of thinking (stop worrying so much what other people think, date the girl etc.) I liked him so much more. When Will Grayson no. 1 and Tiny Cooper have their little…well big heart to heart – nothing involving Tiny could be considered little – in the dugout I felt my heart grow two sizes.
I enjoyed reading the second Will Grayson as well. I really felt horrible for him when he found out his secret online love ended up being his friend – I don't even want to begin to imagine how much being catfished hurts. Seeing the growth in himself over the period of his story was beautiful – from denying his sexuality at the beginning to being able to come out to his mother and the rest of the school it's all about the little steps towards a better, more accepting life.
But let's be read here…even though the book is called Will Grayson, Will Grayson the story is about Tiny Cooper and I'm perfectly fine with that. I love Tiny. So much. I also envy him a little and his ability to so easily wear his heart on his sleeve. Sure you are more susceptible to being hurt but how do you live without living on the edge a bit. When I grow up I wouldn't mind being a bit more like Tiny Cooper. And I think that is what this story is about; both Will Graysons feel the same way by the end of the book in one way or another.
One thing that annoyed me in the book was the lack of grammar from Will Grayson no. 2. I understand why it needed to be done, but it made me cringe every time I was reading it.
I don't even know if any of this made sense, but I just had a lot of feelings about this book and I hope I managed to get my point across.
My Rating: 
On Goodreads I gave this a 5 because you can't do half stars, but my rating is 4.5 out of 5. EVERYONE GO READ THIS IF YOU HAVEN'T.
Favourite Quotes:
"Maybe there's something you're afraid to say, or someone you're afraid to love, or somewhere you're afraid to go. It's gonna hurt. It's gonna hurt because it matters."
"You like someone who can't like you back because unrequited love can be survived in a way that once-requited love cannot. "
"When things break, it's not the actual breaking that prevents them from getting back together again. It's because a little piece gets lost – the two remaining ends couldn't fit together even if they wanted to. The whole shape has changed."
"this is why we call people exes, I guess – because the paths that cross in the middle end up separating at the end. it's too easy to see an X as a cross-out. it's not, because there's no way to cross out something like that. the X is a diagram of two paths."
"maybe tonight you're scared of falling, and maybe there's somebody here or somewhere else you're thinking about, worrying over, fretting over, trying to figure out if you want to fall, or how and when you're gonna land, and i gotta tell you, friends, to stop thinking about the landing, because it's all about falling."
"i will admit there's a certain degree of giving a fuck that goes into not giving a fuck. by saying you don't care if the world falls apart, in some small way you're saying you want it to stay together, on your terms."
"That's what the voices in your head are for, to get you through the silent parts."
…it might have been easier to just put the whole damn book here.