I think it is safe to say that every book-lover has a list at least a mile long of books they are dying to read but haven't gotten around to it yet. I'm a book hoarder. I buy books all the time even when I know I have about a billion sitting in my bookcase unread. It's a serious problem that my shrinking bookcase does not appreciate – too much heavy lifting.
That being said, here are the books that I will *hopefully* finish this month:
Extremely Loud & Incredibly Close by Jonathan Safran Foer
Publisher: Mariner
Released: April 1, 2005
Genre: Adult Contemporary/Historical Fiction
Pages: 326
Goodreads Description: Nine-year-old Oskar Schell is an inventor, amateur entomologist, Francophile, letter writer, pacifist, natural historian, percussionist, romantic, Great Explorer, jeweller, detective, vegan, and collector of butterflies. When his father is killed in the September 11th attacks on the World Trade Centre, Oskar sets out to solve the mystery of a key he discovers in his father's closet. It is a search which leads him into the lives of strangers, through the five boroughs of New York, into history, to the bombings of Dresden and Hiroshima, and on an inward journey which brings him ever closer to some kind of peace.
Goodreads Rating: 3.97 out of 5 stars.
Progress: 44%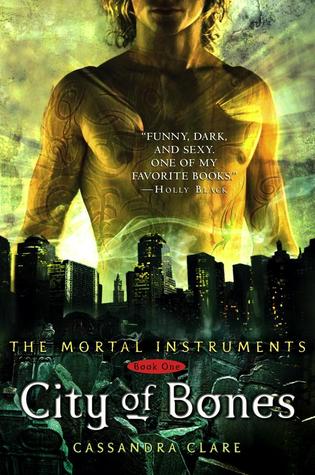 City of Bones by Cassandra Clare
Publisher: Margaret K. McElderry
Released: March 27th 2007
Genre: YA Fantasy
Pages: 485 (But I'm listening to the audiobook)
Goodreads Description: When fifteen-year-old Clary Fray heads out to the Pandemonium Club in New York City, she hardly expects to witness a murder― much less a murder committed by three teenagers covered with strange tattoos and brandishing bizarre weapons. Then the body disappears into thin air. It's hard to call the police when the murderers are invisible to everyone else and when there is nothing―not even a smear of blood―to show that a boy has died. Or was he a boy?
This is Clary's first meeting with the Shadowhunters, warriors dedicated to ridding the earth of demons. It's also her first encounter with Jace, a Shadowhunter who looks a little like an angel and acts a lot like a jerk. Within twenty-four hours Clary is pulled into Jace's world with a vengeance, when her mother disappears and Clary herself is attacked by a demon. But why would demons be interested in ordinary mundanes like Clary and her mother? And how did Clary suddenly get the Sight? The Shadowhunters would like to know…
Goodreads Rating: 4.13 out of 5
Status: Almost finished listening to the seventh chapter on the audiobook
The Maze Runner by James Dashner
Publisher: Random House Children's Books
Released: October 6th 2009
Genre: YA Sci-fi Dystopia
Pages: 374 (ebook)
Goodreads Description: Imagine waking up one day in total darkness, unsure of where you are and unable to remember anything about yourself except your first name. You're in a bizarre place devoid of adults called the Glade. The Glade is an enclosed structure with a jail, a graveyard, a slaughterhouse, living quarters, and gardens. And no way out. Outside the Glade is the Maze, and every day some of the kids — the Runners — venture into the labyrinth, trying to map the ever-changing pattern of walls in an attempt to find an exit from this hellish place. So far, no one has figured it out. And not all of the Runners return from their daily exertions, victims of the maniacal Grievers, part animal, part mechanical killing machines.
Thomas is the newest arrival to the Glade in this Truman-meets-Lord of the Flies tale. A motley crew of half a dozen kids is all he has to guide him in this strange world. As soon as he arrives, unusual things begin to happen, and the others grow suspicious of him. Though the Maze seems somehow familiar to Thomas, he's unable to make sense of the place, despite his extraordinary abilities as a Runner. What is this place, and does Thomas hold the key to finding a way out?
Goodreads Rating: 4 out of 5 stars
Status: n/a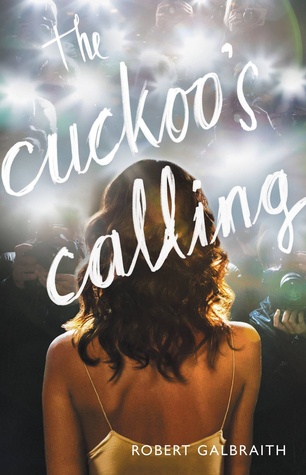 The Cuckoo's Calling by Robert Galbraith (AKA JK Rowling)
Publisher: Mulholland Books
Released: April 30th 2013
Genre: Mystery/Crime
Pages: 455
Goodreads Description: After losing his leg to a land mine in Afghanistan, Cormoran Strike is barely scraping by as a private investigator. Strike is down to one client, and creditors are calling. He has also just broken up with his longtime girlfriend and is living in his office.
Then John Bristow walks through his door with an amazing story: His sister, the legendary supermodel Lula Landry, known to her friends as the Cuckoo, famously fell to her death a few months earlier. The police ruled it a suicide, but John refuses to believe that. The case plunges Strike into the world of multimillionaire beauties, rock-star boyfriends, and desperate designers, and it introduces him to every variety of pleasure, enticement, seduction, and delusion known to man.
You may think you know detectives, but you've never met one quite like Strike. You may think you know about the wealthy and famous, but you've never seen them under an investigation like this.
Goodreads Rating: 3.80 out of 5 stars
Status: n/a
And there you have it! These are the books I'm going to try and get to this month – though I am a very busy beaver for the next two months I will do my best to get as many as possible read! I will do a wrap up at the end of the month to let you all know what I read and didn't.
What is on your TBR this month, let me know in the comments below or on Twitter (@melissaloparco). Also, feel free to add me as a friend on Goodreads so you can follow along with my progress!